DEVOUR Tools started as an innovator for the Top Power tool bands in America for over 25 years. We continue to work with the major brands, helping them to provide cutting solutions in difficult materials to the industry.

DEVOUR Tools has become a leading expert in development, design, and manufacture, of high performance products…especially when it comes to materials that are very difficult to work with including cast iron and granite.

DEVOUR is one of the few Diamond blade brands that is still proudly MADE IN USA. We do all of our research, development, design, and manufacturing for our premium products here in America. This enables absolute control of our quality and allows us to innovate with great results & consistent success.
Shop our products and experience the result for yourself…direct from the Manufacturer.


SUPERIOR RADIAL
CUTTING EDGE TECHNOLOGY
DEVOUR's Unique Radial Profile on the cutting edges mean more diamonds making contact to rip through materials.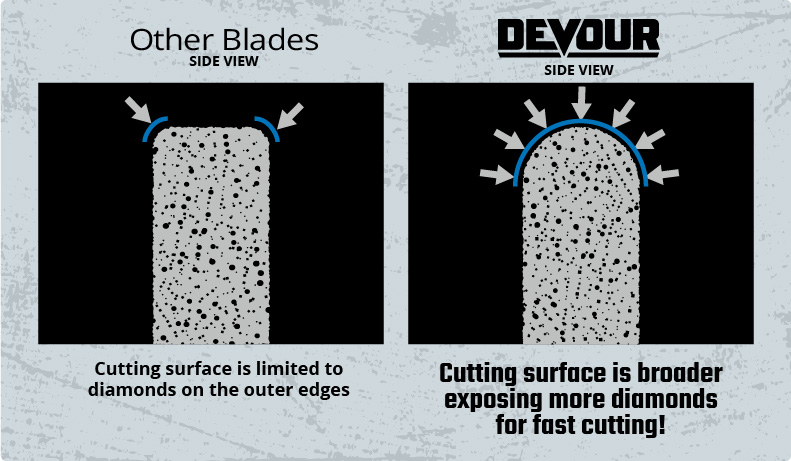 Our low temperature bonding process secures cutting diamonds in place without heat stressing them – maintaining the high quality while providing an exceptionally long life
These diamonds are packed tight and bonded to the cutting edge. maximize smooth and efficient cutting.
Our unique ambient temperature diamond plating process allows for optimal performance of the stone to ensure superior results.

SMART QUALITY DIAMOND PLACEMENT
Our competitors tend to overcompensate with excessive amounts of nickel to secure their diamonds and use metal bonding, which ends up coating the diamonds – burying and covering many of their diamonds – decreasing the surface area of exposed diamond, and diminishing the quality of the abrasive.
We strategically place our diamonds with care in order to avoid just this. Instead, we use precise plating techniques to maximize diamond exposure while securing an indestructible bond.